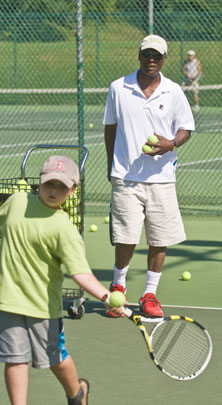 About Us:
The Carrington Tennis Academy has
been in existence (formerly as the
ACTA) for over 30 years.
Arthur Carrington:
Art Carrington was reared in New Jersey,
and learned his skills in one of the first private Black tennis clubs, mentored by
a strata of educated black professionals dedicated to the promotion of tennis as
a social sport. He was a frequent practice partner of Arthur Ashe and assisted
him in numerous tennis events.
One of the top experts in this country on the history of Black tennis, Carrington is recording the saga of the sport not as
a bystander, but as a participant - since the history of the ATA is enmeshed in
his own life story.
He enjoys sharing his research and collection of archival information with those interested in learning more about
the history of Black tennis and how it influenced the futrue of Black sports.
Art Carrington is creator of "Royalty of the Colored Court", An exhibition, talk and tennis demonstration



Lex Carrington:
Lex has over 20 years experience coaching both recreational players and players who have gone on to play at top Div. I, Div. II and Div. III varsity tennis team. He has spent the majority of his career working with junior players but did coach the 2010 Wimbledon and US Open finalist and the current #2 professionaly ranked WTA women's tennis professional Vera Zvonareva for 4 years in addition to several other professional players.